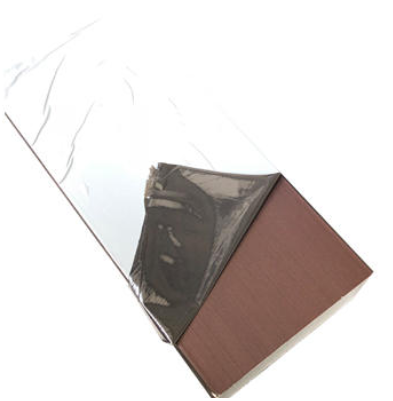 PE film for aluminium is a layer of plastic film attached to the aluminum material. The purpose is to protect the produced aluminum material from damage during a series of processes such as handling, inventory, transportation, processing, and installation. After the aluminum material is installed, It is torn off by the installer, so that the surface of the aluminum material is as smooth as new, and has the desired decorative effect.
What is the purpose of PE film for aluminium?
There are many types of PE film for aluminium products on the market, and the surface treatment technology of aluminum materials is constantly improving. Various aluminum surface treatment technologies include: mechanical polishing, chemical polishing, anodic oxidation coloring, electrophoretic painting, chemical coloring, fluorocarbon spraying, electrostatic powder spraying, surface pattern treatment, etc. Different aluminum surfaces require different viscosities PE film for aluminium.
The PE film for aluminium products generally have 4 series of low viscosity, medium viscosity, high viscosity and extra high viscosity; the colors are transparent, milky white, blue, black and white, etc.; the thickness is 4-12C, so it needs to be different according to the aluminum material Use different PE film for aluminium on the surface. Use of PE film for aluminium: surface protection of aluminum alloy profiles during transportation and processing.
① Low viscosity requirements: suitable for flat, smooth and mirror stainless steel plates, plastic sheets, PMMA, PS boards, PC boards and other products.
② Medium-viscosity requirements: suitable for stainless steel rough-grain frosted board, snowflake board, aluminum-plastic plate (fine grain), plastic steel, aluminum profile and polyester plate and other products.
③ High-viscosity requirements: suitable for the protection of special products that are difficult to adhere, such as aluminum-plastic board rough grain, Buddha carbon board and products with non-smooth surfaces.
What are the advantages of PE film for aluminium in the application field?
Depending on the surface and film pressure, the viscosity rise speed is different. Generally, the PE film for aluminium should be peeled off after sufficient time to determine whether the viscosity is appropriate. For a certain surface, it is extremely important to choose the appropriate colloid and viscous PE film for aluminium. The subsequent processing steps are the key to determining the viscosity. The subsequent processing generally includes cutting, bending, drilling, stamping, etc.
The application areas of PE film for aluminium are as follows: stainless steel plates, aluminum plates, aluminum alloy profiles, plastic steel profiles and doors and windows, aluminum composite panels, fluorocarbon panels, mirror panels, sandwich color steel plates, fireproof panels, decorative panels, plexiglass panels, PS, PE, PVC board, sunshine board (polycarbonate board), anti-theft doors, signs, coated glass, high-end furniture, high-end handicrafts, electrical cabinets, floors, household appliances shells, instruments and meters, and other product surfaces that need to be protected in various fields use.
About the wide application and future trend of PE film for aluminium.
PE film for aluminium is a film-like material with protective function. Mainly used in the following fields:
l 1. Hardware industry: In the hardware industry, PE film for aluminium is mainly used in computer cases, galvanized sheet stamping, aluminum sheet, stainless steel sheet, titanium sheet, plastic steel sheet, glass sheet, solar panel, etc.
l 2. Optoelectronics industry: In the optoelectronics industry, PE film for aluminium is mainly used in LCD liquid crystal displays, backlight panels, cold light films, membrane switches, mobile phone screens, etc.
l 3. Plastic industry: In the plastic industry, PE film for aluminium is mainly used in ABS, PP injection molding products, PVC sheets, acrylic panels, instruments, plastic lenses, surface protection of painted parts, etc.
l 4. Printing industry: PE film for aluminium is mainly used in the surface protection of printing nameplates such as PVC, PC board, aluminum board, and film in the printing industry.
At present, the production and application of domestic PE film for aluminium is still in the extensive growth stage of high speed, low efficiency and high consumption. Most of the product grades are low, and there is a big gap with developed countries, especially in the functionality of PE film for aluminium.
Most high-end functional packaging materials rely on imports, which has become a major factor restricting the development of my country's food and medical product packaging. The PE film for aluminium prepared by biaxial stretching technology has advantages that ordinary films cannot match in terms of strength, rigidity, dimensional stability, optical properties, and thickness uniformity. Therefore, it occupies an important role in the packaging of food, medicine and other industrial products. status!